April 10, 2023
Pontoon Boats: A Comprehensive Guide for Enthusiasts
Pontoon boats are a versatile and popular choice among water enthusiasts for their unique design, spacious layouts, and suitability for various activities. Comprised of a flat deck mounted on two or more buoyant pontoons, these boats offer stability and comfort, making them ideal for leisurely cruises, entertaining guests, and even fishing excursions.
With a wide selection of models and features available, pontoon boats cater to different preferences and budgets. Renowned manufacturers like SUN TRACKER, Bennington, and Avalon offer an array of options in terms of size, horsepower, and amenities, ensuring that there is a perfect pontoon boat for every enthusiast. Whether you prioritize luxury, performance, or functionality, pontoon boats provide a customizable and enjoyable experience on the water.
History of Pontoon Boats
The invention of the pontoon boat can be traced back to the early 1950s in the United States. It is generally attributed to a farmer named Ambrose Weeres who lived on the Horseshoe Chain of Lakes, near Richmond, Minnesota in 1951 (source).Weeres recognized the potential of flat-bottomed boats that relied on floats for buoyancy, making them suitable for shallow waters and recreational activities.
While there is some controversy regarding the true inventor of the pontoon boat, it is widely accepted that John Cripe played a significant role in the design and popularization of pontoon boats in the 1960s. John Cripe was the founder of Sylvan pontoon boats, a brand that is still relevant today (source).
The original pontoon boats were relatively simple in design, featuring floats or tubes for buoyancy and a wooden platform. Over time, advancements in materials and technology have led to significant improvements in features, performance, and durability.
Modern pontoon boats offer a wide range of amenities and design features, making them versatile options for water recreation. Some of these enhancements include:
Aluminum framing and construction for improved durability.
Increased horsepower for better performance and water sports capabilities.
Advanced seating and lounging options for enhanced comfort.
Marine audio systems, GPS navigation, and other on-board technology.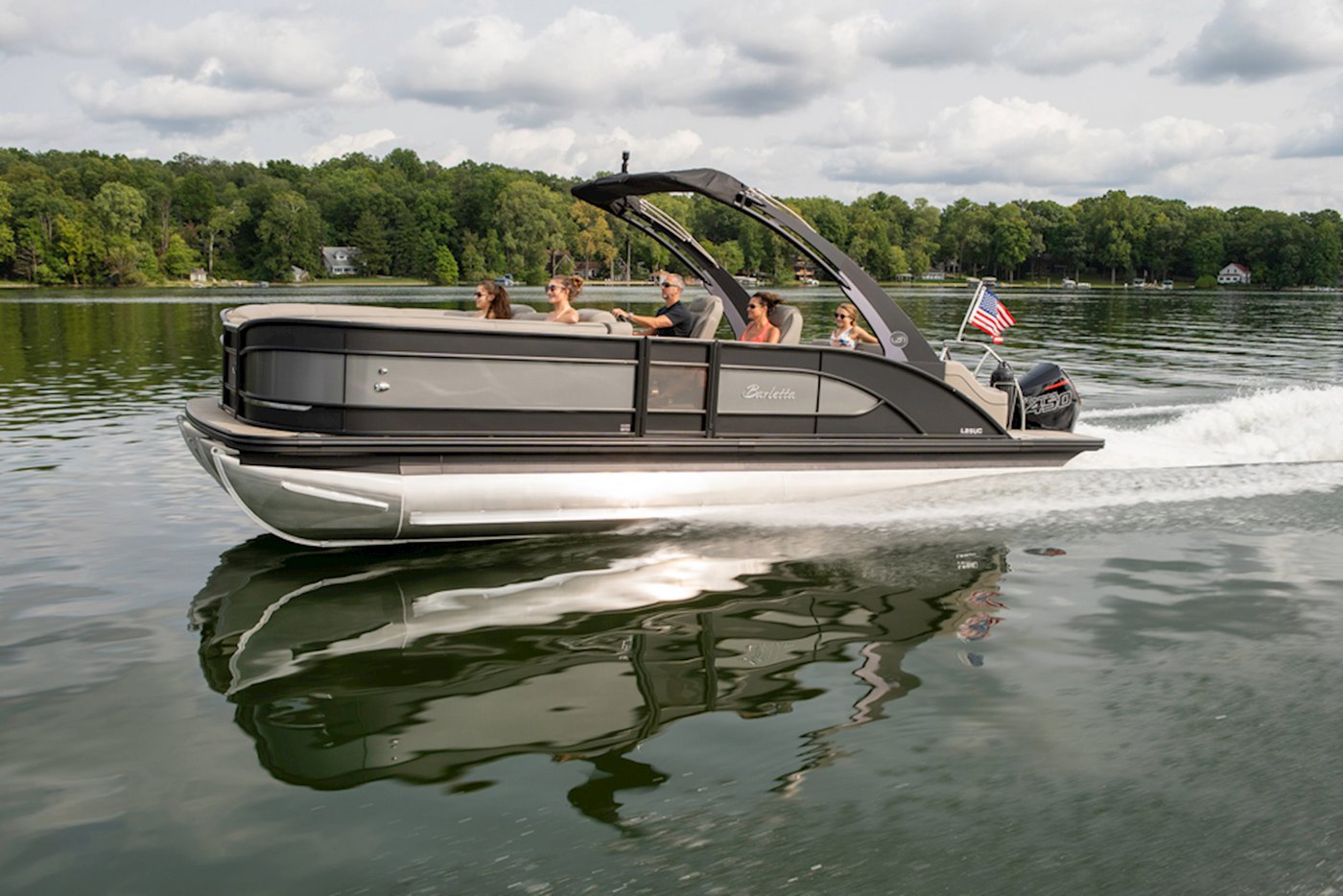 Types of Pontoon Boats
Pontoon boats can be divided into several categories based on their intended use and features. We'll discuss some of the most popular types.
Keep in mind that some pontoons can fall into multiple categories, offering a blend of functionalities to suit your needs. Additionally, manufacturers may have unique offerings, such as the Bar Boat, which features a bar top with bar stools and caters to entertaining.
Features and Amenities
Pontoon boats come equipped with a variety of features and amenities, making them an ideal choice for various on-water activities. Some popular features include:
Powerful stereo systems
Built-in refrigerators and/or ice makers
Electric grills
Enclosed head compartments
These features help create a great party atmosphere for those looking to entertain guests on the water. Some pontoon boats even come equipped with bars for added convenience and enjoyment.
For fishing enthusiasts, pontoon boats can be customized with various accessories, such as:
In addition to fishing, pontoon boats can be tailored to other activities, like diving and swimming. Some models include swimming ladders, sun pads, and shaded canopies to enhance the experience.
With multiple size options ranging from 19 to 26 feet and varying price points, luxury pontoon boats cater to different preferences and budgets (Freedom Boat Club). The versatile nature of pontoon boats allows for customization based on specific needs and interests, ensuring an enjoyable experience for all on-board.
Uses and Activities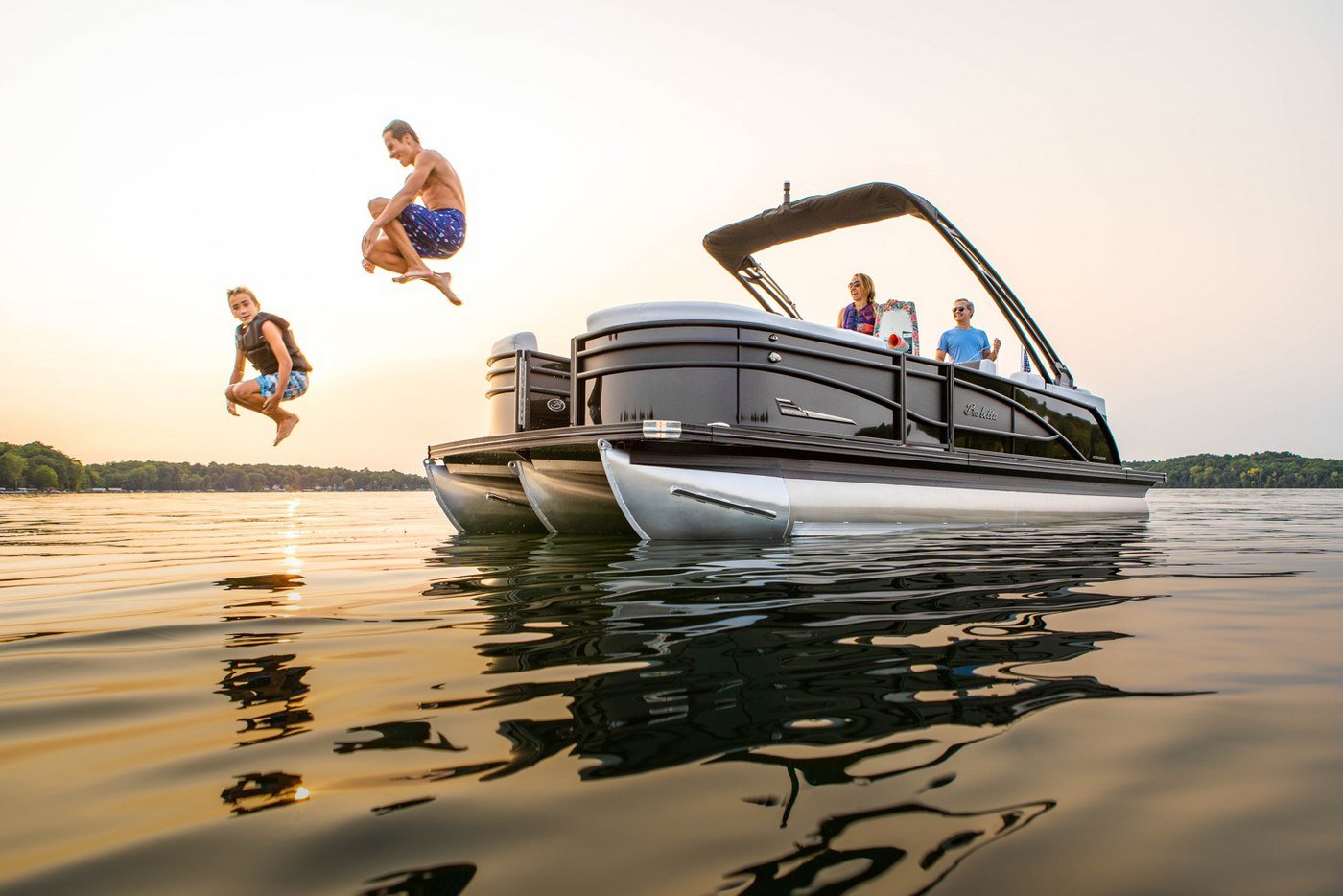 Pontoon boats are versatile and can be used for a variety of activities, making them a popular choice for water enthusiasts. One of the main reasons people choose pontoon boats is their ability to host a wide range of events and occasions.
Boat parties are a popular activity on pontoon boats, as they offer plenty of space and features for entertaining guests. Family outings can also be enjoyed on a pontoon boat, as they typically have ample seating and comfort-oriented amenities. In addition, pontoon boats are great for fishing, as they provide a stable platform and many boats are equipped with fishing features such as rod holders and live wells.
Water sports enthusiasts can also enjoy pontoon boats for activities like water skiing, tubing, and wakeboarding. They can even be fitted with attachments like inflatable slides, dive boards, and sunscreens, offering more fun options for users. FreshwaterFishingAdvice highlights the unique design of pontoons and their flat-top deck, which makes them ideal for water sports and luxury vacations.
Pontoon boats can also be used for:
Swimming in lakes or rivers
Day and night cruises
Beaching and swimming off the boat
With their spacious design and multi-purpose use, pontoon boats can cater to a wide array of hobbies and interests for all ages, making them an excellent option for those seeking both fun and relaxation on the water.
Maintenance and Safety
To ensure the longevity and safety of your pontoon boat, regular maintenance is essential. Starting with the engine, it's important to flush and clean it periodically, as well as keeping the battery power up and topping off fluids as needed. You should also readjust belt tightness, test spark plugs, and ensure all necessary parts are greased and lubed (Pontoon Family).
Keeping your pontoon boat clean is another crucial aspect of maintenance. Washing it weekly and applying varnish and wax when necessary will help preserve its appearance and functionality. Don't forget to carry out fire extinguisher checks and inspect all the safety equipment on board regularly (Boating Mag).
When it comes to safety equipment on your pontoon boat, there are a few essentials to keep in mind. Safety stanchions, chains, fire extinguishers, port, starboard, and stern lights, an engine kill switch with a lanyard, and a horn should all be a part of your boat's standard safety features (Barletta Pontoon Boats).
Lastly, take into account personal protective equipment and other essentials, such as sunscreen, anti-allergy medication, and a well-stocked first aid kit. These items will minimize the risk of injury and help prevent any existing injuries from worsening while you're out on the water (Pontooners).
Section 7: Buying Guide
When choosing the right pontoon boat, several factors should be considered to ensure you purchase the perfect one for your needs. In this buyers guide, we will outline the essential features to look at while deciding on your next pontoon boat investment.
Size and Type
The size and type of pontoon boat will largely depend on your intended use, whether it's for fishing, entertaining or leisurely cruising. Keep in mind the number of passengers you plan to accommodate and the activities you want to engage in on the water. GoDownsize recommends determining the size and type of pontoon you need, as different boats cater to specific activities and capacities.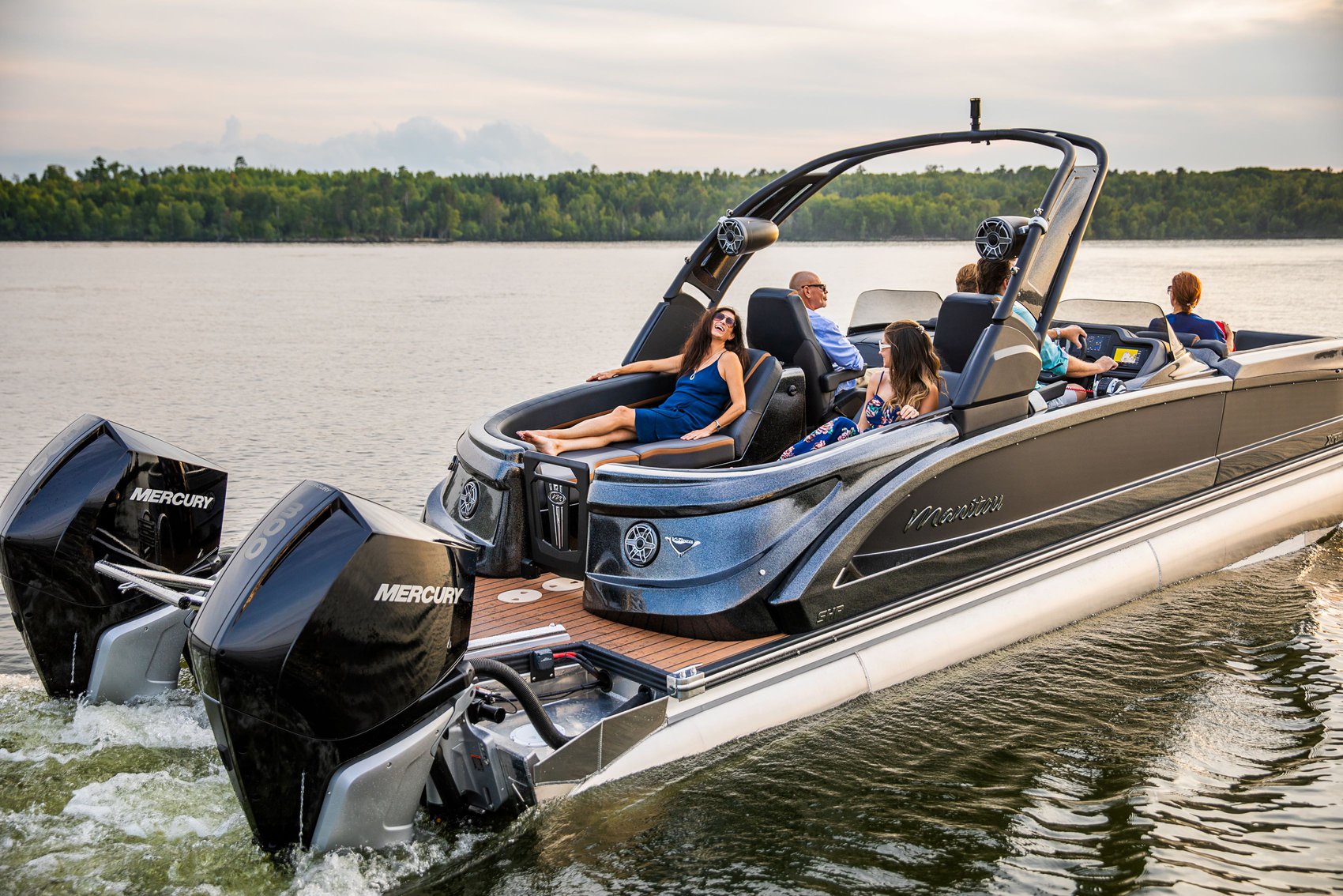 Engine and Performance
Consider the boat's engine, power, and performance. Decide whether you need a pontoon boat with a smaller engine for calmer waters and leisurely cruises, or a more powerful one for water sports and activities. The performance capabilities of a pontoon boat are directly related to the engine and build of the tubes, which can affect the overall ride.
Materials and Construction
Quality materials and construction are essential for the longevity and durability of your pontoon boat. The Boat Trader Blog explains that pontoon boats consist of two or three interconnected, buoyant tubes (pontoons) that make up the hull, topped by a large, flat deck. Those with three pontoons are sometimes called "tri-toons." Ensure that these materials are corrosion-resistant and able to withstand various water conditions.
Brand Reputation and Reviews
Research and compare different pontoon boat brands to understand how each stands in terms of quality, reliability, and customer satisfaction. Checking reviews and testimonials from other buyers will help you make an informed decision about which brand to choose.
New vs. Used
Lastly, consider your budget and decide whether you should invest in a new or used pontoon boat. As Godfrey Pontoon highlights, it's essential to weigh the costs, financing options, and any future expenses such as maintenance and accessories before purchasing your pontoon boat.
By considering these guidelines and thoroughly evaluating each feature, you can confidently choose the best pontoon boat to suit your requirements and enjoy your time on the water.
Conclusion
Pontoon boats offer a range of advantages that make them suitable for various recreational activities, such as their family-friendly nature, versatility for water sports, and comfortable fishing environment. Their ease of cleaning, longevity, and renovation options make them a long-lasting investment for boat enthusiasts.
Despite these benefits, potential buyers should consider the cons, such as the boats' lower speed, potential depreciation in the high-end market, and unsuitability for rough waters. Weighing these factors will help ensure a smart and informed decision for those wishing to invest in a pontoon boat.
In summary, pontoon boats can be a great investment to enhance outdoor experiences, provided that buyers balance the pros and cons based on their specific needs and preferences. Make sure to do thorough research and consult experts if needed, to make the most of your pontoon boat experience.